Cannabis and Creativity: Unleashing Inspiration in Northern California with Smokeland
The Marriage of Cannabis and Creativity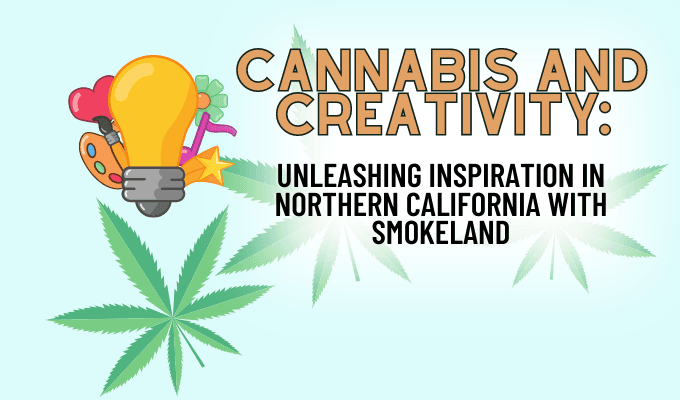 Measuring the connection between creativity and cannabis is not simple. In fact, scientists also gave their time to quantify the emerging connection between these two did it seamlessly and came up with divergent thinking. Testing this concept was not easy. Clinical psychologist Gráinne Schafe who is also the proponent of this research said that the relationship between cannabis and creativity is not fully understood by some scientists. As the research progressed, they noted that cannabis produces an effect that can help a person connect creative ideas and unleash their artistic side. 
Nestled amid the lush landscapes of Northern California lies a haven where creativity and cannabis converge, giving rise to a unique experience like no other. Smokeland is a place where artistry and relaxation intertwine, creating a sanctuary for those seeking inspiration and a touch of magic. In this blog, we'll discuss more about the connection between cannabis and creativity through Smokeland. Scroll up for more!
The Enchanting Landscape of Northern California
Discover the fascinating link between cannabis and creative genius as artists from a variety of fields eloquently attest to the transformational potential of this plant. See how cannabis opens up new neural connections in the brain, enabling creatives to see the world through a colorful lens. Discover the amazing connection between cannabis and the creative process as it stimulates the mind, reveals hidden dimensions, and elevates artistic expressions to unmatched levels.
As you dive into this wonderful experience, try visiting the beautiful landscape of Northern California, from mountains to clear beaches each stimulates your creativity to create a masterpiece. 
Smokeland, being one of the most trusted brands in California, offers a vast variety of cannabis-infused products that will help you boost your creativity at the same time. If you wish to buy some, visit this link now!
The Marriage of Cannabis and Creativity
We can't deny the romantic connection between creativity and cannabis. Some might not believe it but research is already gradually proving it. There are plenty of cannabis consumers and they purchase products not for medicinal and recreational purposes only. Musicians, artists, and painters need a great product in order to improve their creative thinking at any time. And here it is, you just need to find the most suitable method and product for you! 
Cultivating a Sense of Community
Smokeland isn't just about personal exploration – it's about fostering a sense of community among like-minded individuals.Here, we value how you foster care and friendship in the community. Whether you build relationships with your fellow cannabis consumer or budtender. It is important to create significant roles in the community while spreading kindness and imparting creative ideas. Engage in conversations with fellow creatives, share your thoughts, and learn from one another's journeys. The power of collaboration and shared experiences creates an atmosphere where ideas flourish and innovation thrives.So, what are you waiting for? Gather your friends and start brainstorming for new and creative ideas for your next music album or artwork!
Elevating the Mind, Body, and Soul
Having a boost of creativity is great but what if I tell you that cannabis also has a positive impact on your mind, body, and soul? Beyond igniting creativity, Smokeland recognizes the importance of holistic well-being. Engage in mindfulness activities, yoga sessions, and nature walks that invigorate both your body and soul. Connect with the natural world around you and find a harmonious balance between your inner self and the external environment together with your favorite cannabis-infused products. In short, combine your favorite cannabis with a healthy routine and prioritize your overall well-being. 
Bottomline
In a nutshell, the synergy between Northern California and Smokeland is a recipe for pure positivity and boundless inspiration. The region's natural wonders harmonize seamlessly with Smokeland's inventive spirit, offering a playground for creative minds to flourish. So whether you call this place home or you're here for a visit, get ready to soak in the positive vibes and let your inspiration run wild, powered by the dynamic fusion of nature and innovation!
For More Tips on Cannabis and Creativity: