Cannabis Delivery Near Me: How to Find Same-Day Weed Delivery
How Smokeland Cannabis Delivery Works: The Process Explained
Harvey Haze
6/16/2023
2 min read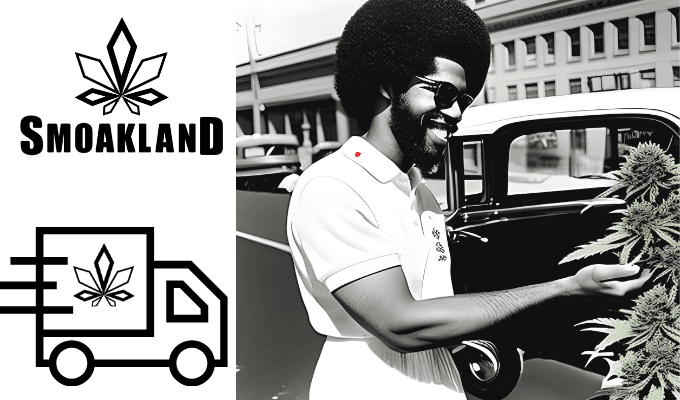 So you've got a hankering for some herbal refreshment but don't feel like leaving the house. No problem, in this age of on-demand everything, cannabis delivery is just an app away. While delivery is convenient, finding a legit service that offers safe, legal products with fast, discreet delivery can be tricky. But don't worry, Smokeland got you covered.
In this article, we'll walk Smokeland's cannabis delivery services in your area that offer same-day drop-offs of your favorite flower, edibles, concentrates, or CBD products. Whether you're a long-time cannabis connoisseur or just cannabis-curious, read on to learn how to get your stash swiftly delivered to your doorstep. Let the relaxation begin!
How Smokeland Cannabis Delivery Works: The Process Explained
So you've decided to order your cannabis from Smokeland Cannabis Delivery - great choice! 
Here's how their process works:
Once you place your order on their website or through their app, one of their friendly drivers will promptly head to their warehouse to fill and verify your order. Smokeland has an extensive menu with all the latest products - flowers, edibles, concentrates, topicals, you name it.

Within a couple of hours, your driver will be on the way. They'll send you updates via text to let you know when they've left the warehouse and are headed your way. Expect them to arrive within 30-90 minutes depending on traffic.

When the driver pulls up, they'll check your ID to ensure you're of legal age. Don't worry, all their packaging is discreet for your privacy. Once verified, the exchange will only take a couple of minutes. Your driver will also be happy to provide any recommendations or answer questions about the products.

After your delivery is complete, be sure to leave your driver a review on Smokeland's website. They appreciate your feedback and work hard to provide the best possible experience for all their cannabis consumers.
So kick back, relax, and enjoy - your delivery is coming! With same-day delivery, quality products, and superior customer service, Smokeland Cannabis Delivery aims to take the hassle out of buying legal weed so you can focus on what matters.
Safety Tips for Cannabis Delivery
When ordering cannabis delivery, your safety should be a top priority. There are a few precautions you can take to ensure you have a positive experience.
Check credentials
Make sure the delivery service you choose is properly licensed to operate in your area. Legitimate businesses will advertise their license number and allow you to verify it on the state licensing website.

Read reviews from other customers to determine if the company is reputable and provides good service. Look for mostly positive reviews mentioning things like product quality, accurate orders, and friendly delivery drivers.
Pay securely
Never pay for your order in cash, as this does not provide a record of your purchase. Pay by credit or debit card instead.

Double check that the company website where you enter your payment information begins with "https" - the "s" indicates it is a secure site.
Be discreet
Have your ID ready to show the delivery driver, as they will need to verify your age. But do not share personal information beyond what is required.

Ask the delivery service about their discreet packaging and unmarked vehicles. Reputable companies will take measures to be as inconspicuous as possible when delivering cannabis products.
Check your order
Carefully inspect your order immediately upon receiving it to ensure it is correct before the delivery driver leaves. Count the number of items you ordered and check that any labeling or product descriptions match what you purchased.

Politely refuse to accept the order if anything seems amiss. It is within your rights as a customer to receive precisely what you paid for. The delivery service should either provide the correct items promptly or issue you a refund.
Following these tips will help ensure you have a safe, legal delivery experience and receive the high-quality cannabis products you're paying for. But if at any time you feel unsafe or uncomfortable, don't hesitate to refuse the delivery. Your security should be the top priority.
Smokeland Cannabis Delivery FAQs: Common Questions Answered
How can I pay for my order?
Most delivery services accept various forms of payment for your cannabis delivery order:
Handheld ATMs are offered at selected locations please check with the CS team to ensure that your location has a machine today.
What's the most I can order?
Due to Prop 64, the recreational using adult can purchase 28.5 grams of flower and 8 grams of concentrate per day. This does NOT apply to MMIC cardholders as they can buy more.
Exact limits depend on laws in your area and individual service policies. It's best to check with your delivery service directly to confirm order maximums before purchasing. Some may allow larger bulk orders if you have a medical marijuana card.
Do you offer any loyalty programs?
Yes, once you create an account at Smoakland.com and become a verified member you can collect points with every purchase. You can also start referring your friends and both of you will receive $10 off your next order! 
Rewards programs vary between services, so compare options to find one that fits your needs. The more you order, the more you can save!
Where do you deliver to?
Oakland, Alameda, Piedmont, San Leandro, San Lorenzo, Castro Valley, Emeryville, Berkeley, Richmond, Albany, El Cerrito, San Pablo, El Sobrante, Pinole, Hercules, Concord, Martinez, Clayton, Pleasant Hill, Walnut Creek, Lafayette, Orinda, Moraga, Pacheco, San Ramon, Pleasanton, Danville, Dublin, Livermore, Alamo, Mt. Diablo, Palo Alto, Mountain View, Redwood City, Menlo Park, San Mateo, Sunnyvale, Santa Clara, San Bruno, Daly City, San Carlos, Burlingame, Belmont, Foster City, Millbrae, San Burno, San Francisco, and Sacramento.
Where do you get your products from?
All of our products are produced, sourced, and farmed locally.  We support our neighbors and always do our best to buy from all of them.
Finding the Best Cannabis Delivery Experience
You're all set. Now you know how to find same-day cannabis delivery services near you. Whether you want to order online and have your items discreetly delivered to your door or prefer to visit a dispensary in person, you have options. Cannabis delivery makes it easy to get what you need when you need it. So go ahead, place your order, kick back, and enjoy. The future is here, and it comes with free shipping. Stay safe and remember to consume responsibly!
If all of that sounds good, it might be time for you to order! Check out our easy online delivery portal to begin your first Smokeland cannabis delivery experience.