Choosing the Right Cannabis Product for Your Needs
It might be a long process, but it will be worth it in the end.
Harry B. Nuggs
10/24/2023
5 min read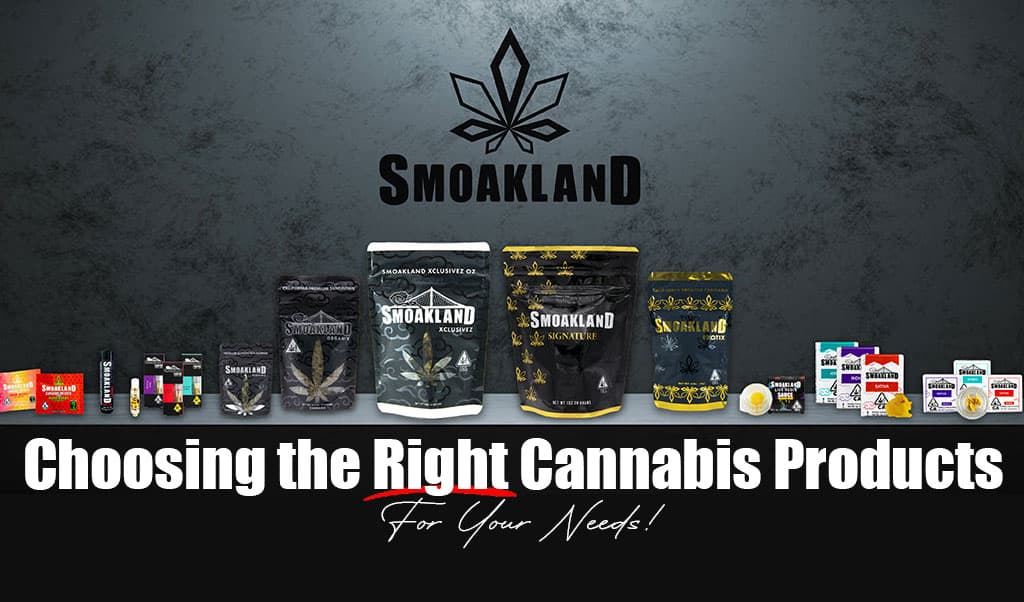 Choosing the Right Cannabis Product for Your Needs
Enjoying cannabis to its fullest might be hard, especially if you're a newbie. Little to no knowledge about its advantages, content, and methods of use may lead to improper cannabis intake. 

The question is, are you here to have a better experience with Smokeland cannabis products? If so, we've curated a beneficial pilot that will serve as your ultimate guide to buying the perfect cannabis products that will align with your needs. 
Ready to dive deeper? Keep reading!
Questions You Should Ask Yourself Before Buying:
There are various cannabis strains and products available in the market; having an awareness of the different ways of consuming, classification, and what cannabis is made from are all important factors to consider when buying one. To better understand this, here are some things you need to consider:
What do I want?
We have unique tastes and varied reactions to different types of cannabis. Choosing the best product also allows you to check what content works best and which does not. Have a self-check and try to identify your taste, what experience you want to attain, how much effect is needed, and how much you want the product. 

If you're confident enough about what you want, now is the right time to browse through Smokeland's online menu. However, if you're still in the process of exploring, try cannabis products with low potency, such as Smokeland's WYLD Elderberry Gummies. 
What strain should I choose?
Identifying the desired result is required in this phase. The three strain clasifications are Indica, Sativa, and Hybrid. Each is critical to reaching the intended outcome. Indica is the best option for people who have had a long day and just want to chill out on their favorite couch. Indica is the exact opposite of Sativa, which is why you should choose it if you need to feel more energized and have a lot of things to complete in a day. A hybrid strain will let you simultaneously experience Indica and Sativa.
How much is my budget for this?
If you have a high budget for your cannabis product, the price won't matter that much to you. But if you're looking for a better experience at low prices, then you should know about this one. The higher the amount of cannabis consumed, the higher the price, but what if I told you that we have a company that offers quality products at affordable prices? Welcome to Smokeland, one of the most trusted brands with varied cannabis products that will definitely satisfy your needs. To learn more, visit Smokeland's website. 
What method is most applicable to me?
All of the methods are convenient and effective if it is based on your needs. To better know which method will work best for you, know your limit and preference, whether it's through dabbing, smoking, or consuming edibles. For newbies, we recommend having edibles as a starting point. Edibles can be consumed through eating or drinking. It has lower potency but can have effects of relaxation and a better sleeping schedule. However, if you are still in the process of discovery, do not hesitate to try new things and decide which is the best one for you. 
Bottom Line
It might be a long process to choose the best product to satisfy your needs, but it will definitely be worth it in the end. Make sure to follow these guide questions and try to ask yourself in order to assess which is the best one for you. If you need some background on different products, you should visit Smokeland now!