How to Store and Preserve Your Cannabis Products for Freshness
Proper storage makes a difference in maintaining quality and maximizing shelf life.
Harry B. Nuggs
10/30/2023
5 min read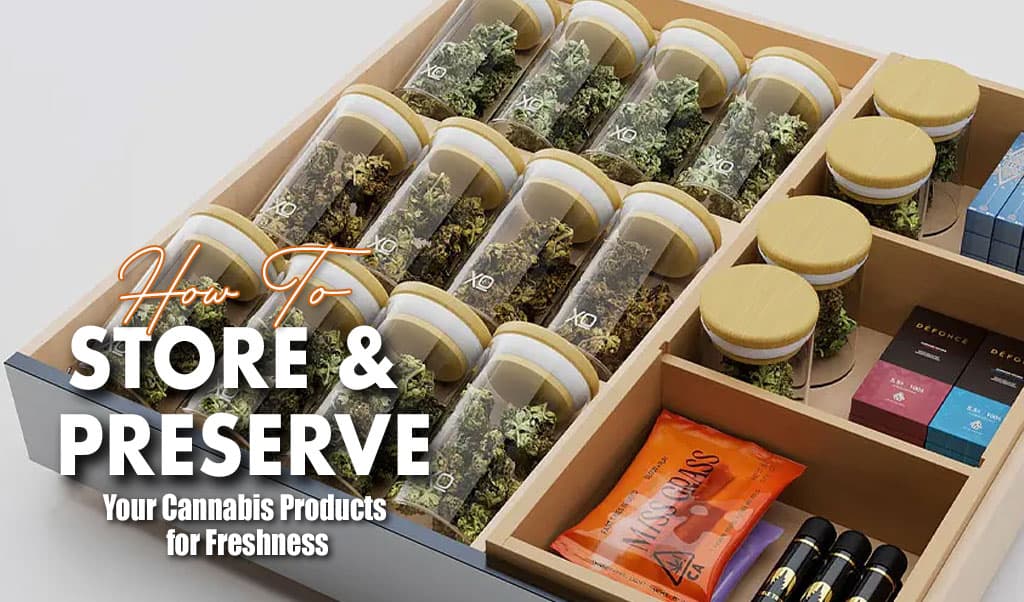 How to Store and Preserve Your Cannabis Products for Freshness
You've invested good money in high-quality cannabis products, so you want to keep them fresh for as long as possible. Whether you've stocked up on flowers, edibles, concentrates or topicals, proper storage is key to preserving potency and ensuring your stash lasts. Exposure to air, light, heat or moisture can speed up deterioration and reduce the lifespan of your products.
Take the time to store your cannabis correctly and you'll be enjoying the fruits of your labor for months to come. Your wallet and your taste buds will thank you. Keep things fresh, keep things flavorful, and keep things potent - that's the goal for any cannabis connoisseur. Follow these guidelines and you're well on your way to building your perfect cannabis stash.
Proper Storage Conditions for Preserving Cannabis Freshness
When it comes to keeping your cannabis products fresh, proper storage is key.
First, keep everything in an airtight container like a glass jar with an air-tight lid. This prevents exposure to air, light, and moisture - the three enemies of cannabis freshness. For edibles or concentrates, refrigerate what you'll use within a week. For longer storage, keep in the freezer.
Second, store in a cool, dark place away from heat and sunlight. Light and heat accelerate the breakdown of cannabinoids like THC and CBD, reducing potency and freshness. A closet, cabinet or drawer away from appliances works well.
Third, don't handle your cannabis products more than necessary. Each time you open the container, you expose it to air and moisture. Only open when accessing the product.
For flower, keep a humidity regulator pack in the jar to prevent over-drying. Check buds regularly and if they become crumbly, use a rehydrating pack. Trim away any dead or dying leaves which can promote mold growth.
Edibles also stay freshest when wrapped individually and kept cold. Follow the "best by" date and if mold appears, discard the entire batch.
With the proper precautions taken, you can keep dried cannabis flower potent and fresh for 6-12 months, edibles for 1-3 months, and concentrates for 4-6 months or longer. By minimizing air, heat, light, and excess handling, you'll be enjoying your cannabis products as nature intended - fresh, full-bodied, and full of flavor.
Best Practices for Storing Different Types of Cannabis Products
So you've invested in some high-quality cannabis products and want to keep them fresh as long as possible. The key is storing each product properly based on its form and potency.
Flower
The biggest enemies of cannabis flower are air, light, and heat. An airtight glass jar stored in a cool, dark place is best. For max freshness, use an opaque jar and replace the oxygen-absorbing packet every few months. Avoid plastic bags or containers which can degrade trichomes and alter the flavor.
Concentrates
Concentrates like shatter, wax, and hash should also be kept in an airtight non-stick container away from heat and light. The fridge is a great option. If storing long-term, consider using multiple smaller containers so you're not exposing the product to air each time you open it.
Edibles
Homemade or commercially prepared, all edibles should be refrigerated or frozen to prevent spoilage and maintain potency. Wrap or seal each individual edible before storing in an airtight container. For best quality, consume refrigerated edibles within 1 week and frozen edibles within 3 months.
Tinctures and Oils
As extracts in a solution, tinctures and oils should be kept in their dropper bottles, sealed and away from heat or sunlight. Stored properly, most last 6-12 months. Check for any sediment before consuming and avoid if there are major changes in color, odor or consistency.
Following these best practices for the different types of cannabis products you have will ensure maximum freshness and potency for the longest time possible. And remember, when in doubt, cooler and darker is always better for storage.
Conclusion
Proper storage really does make a difference in maintaining quality and maximizing shelf life. Keep things cool, dark, and airtight and your products will stay fresher longer. Don't wait until the last minute - get your storage solutions in place as soon as you bring your newest haul home. A little bit of upfront effort will pay off down the road when your cannabis is still good as new. Stay lifted, my friends! With the right techniques, you'll be enjoying the fruits of your labor for months to come.