Pre-rolls are the new bottle of wine
Selecting High-Quality Pre-rolls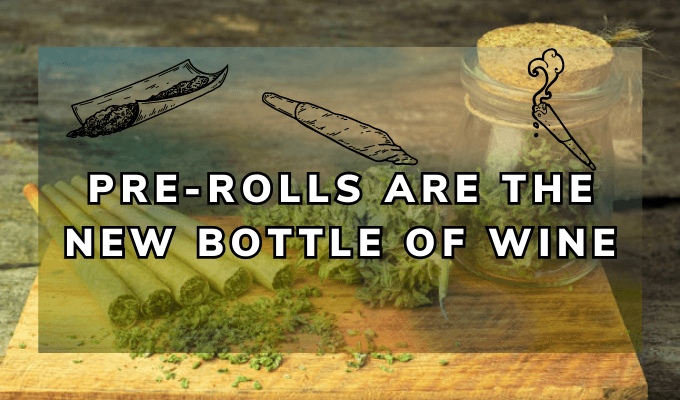 Imagine a party where laughter and stories flow effortlessly, where both the young and the young-at-heart find common ground in shared experiences. Whether you're hosting the bash of the century or preparing to dazzle as a guest, pre-rolls are the secret ingredient to ensuring everyone has an unforgettable time. Pre-rolls already proved its worth a long time ago, there's no hesitation that it's one of the best products in the market. Together with its high-quality benefits, pre-rolls will make your night party even great!
Curious to learn how these magical pre-rolls can be your ultimate party weapon? Let's dive in and discover how this one-of-a-kind gift can elevate any celebration, creating memories that span generations.
What are Pre-Rolls?
Pre-Rolls are like cannabis fast food - someone else has already done the rolling for you.
Visualize this: you have your weed, some rolling paper, and a filter contraption on one end. They'll even toss in extra powerful weed to amp up the euphoria. These pre-rolls frequently contain freshly ground buds that will provide you with an enjoyable experience. And, yes, they may occasionally have the leftovers that collect at the bottom of the cannabis jar - they call it shake, but don't be fooled by the name, good stuff is still in there.
The best part? To light these lovelies, all you need is a regular lighter. So it's like the no-hassle method to enjoy your cannabis. If you want to try pre-rolls visit Smokeland's online menu and start the joyous experience. 
Selecting High-Quality Pre-rolls
Choosing high-quality pre-rolls entails taking various aspects into account to ensure you get a product that matches your expectations. Pre-rolls are pre-made cannabis joints, and their quality can vary greatly depending on aspects such as cannabis source, rolling technique, and overall presentation. Here's a guide on selecting high-quality pre-rolls:
Cannabis Origin
- Pre-rolls created from high-quality, well-cured cannabis flower should be avoided. Cannabis sourced from recognized producers who prioritize organic and sustainable cultivation procedures is more likely to provide a superior product. Investigate the brand and its reputation in the industry.
Aroma and Appearance - A high-quality pre-roll should be visually and olfactorily enticing. The blossom should be well-trimmed and trichome-covered (resinous crystals). It should include a strong and pleasant aroma, indicative of its freshness and potency.
Rolling Technique - A well-rolled pre-roll should have even cannabis dispersion throughout, with no gaps, lumps, or excess paper. The joint should be solid but not too tight to ensure a smooth and even burn.
Packaging - The pre-roll packaging can reveal information about the manufacturer's attention to detail. To retain freshness and prevent damage during shipment, high-quality pre-rolls are frequently packaged in protective and airtight packaging.
Why is it better as a gift?
Not only do pre-rolls promise a good time, but they also offer pain relief and an intense euphoric effect, elevating the experience to new heights. Imagine sharing laughter and stories while the stress melts away, leaving behind unforgettable memories. The perfect gift on its own or as the centerpiece of a bouquet, pre-rolls bring sophistication to any occasion.
Pre-rolls are also great when partnering with other cannabis-infused products like THC gummies and CBD cookies. You cannot deny the fact that pre-rolls still give the best experience! What are you waiting for? Visit Smokeland and add to your cart now. 
Conclusion
So, whether you attend a party or host one, make sure to create an ambiance where joy meets experience. If you need something truly special, pre-rolls got your back. Through their ability to spark conversation, and laughter, and give a memorable experience, pre-rolls are not just a gift but a celebration masterpiece!
The laughter of millennials blends harmoniously with the wisdom of the older generation, all while enjoying the soothing effects of pre-rolls. This is more than just a party; it's a bridging the gap between generations, a testament to the power of shared moments, and a unique gift that brings people together.
So, the next time you're planning a party or getting ready to attend one, remember that pre-rolls aren't just rolled herbs – they're a gateway to unforgettable memories and connections.