The Future of Cannabis Delivery: Trends and Innovations
More options, better service, and total convenience—cannabis delivery has never been so advanced.
Harry B. Nuggs
10/26/2023
5 min read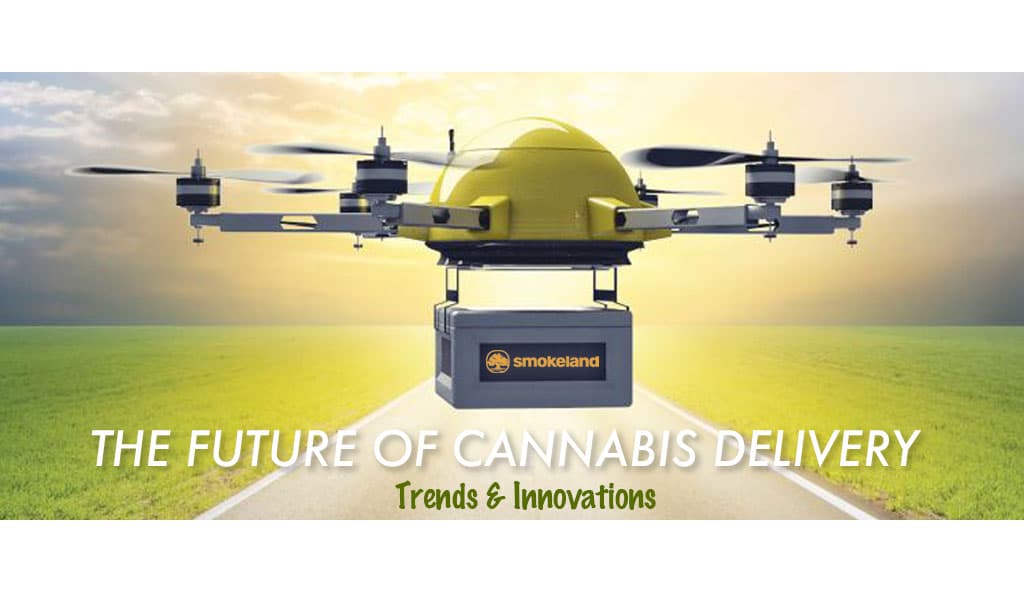 The Future of Cannabis Delivery: Trends and Innovations
Ever wonder what the future holds for cannabis delivery? Things are changing fast in this industry, and new innovations seem to pop up every day. As more states legalize recreational marijuana, the demand for convenient cannabis delivery services is skyrocketing. You may have noticed flashy ads for weed delivery apps and websites recently. But there's a lot more going on behind the scenes.
The cannabis industry is evolving at lightning speed. As a consumer, the future looks bright. More options, better service, and total convenience—cannabis delivery has never been so advanced. Keep reading to discover the most exciting trends and innovations set to transform the way you get your weed. The future is now.
Innovations and Trends in Cannabis Delivery
On-demand delivery
On-demand delivery services are making cannabis more instantly accessible than ever before. Companies like Smokeland are partnering with local dispensaries and delivery services to offer quick delivery of your favorite cannabis products within an hour. All you have to do is open their app, browse products, place your order and enjoy fast, free delivery to your doorstep.
Curated subscription boxes
Subscription boxes are a fun new trend, allowing you to discover new products matched to your tastes. This monthly cannabis subscription boxes with a curated selection of themed gear like artisanal edibles, pre-rolls, vapes and more. The variety of options means there's something for everyone.
Drone delivery
The future is here - drone delivery of cannabis is now reality. Companies are testing drone delivery in states where it's legal, allowing customers to receive small orders of cannabis products within 30 minutes. While still in early testing phases, drone delivery could eventually expand to include more products and faster service, especially in remote areas.
The cannabis industry is evolving fast, and delivery innovations are at the forefront, providing more convenience, personalization and futuristic options for enjoying your favorite products. The future of cannabis is arriving at your doorstep.
The Future of Cannabis Delivery
The cannabis industry is evolving at lightning speed, and delivery services are at the forefront of innovation. As online ordering and delivery become more widespread, a few trends are emerging that will shape the future of how you get your cannabis.
Home delivery of cannabis is gaining popularity in areas where it's legal. Instead of going to a dispensary, customers can shop online and have their items discreetly delivered to their doorstep. This convenience and privacy is appealing to many cannabis users.
Cannabis subscriptions and curated boxes are an up and coming niche. Like wine or craft beer clubs, these services ship a regular selection of cannabis products to subscribers. They aim to expose customers to a variety of strains and products and take the guesswork out of choosing what to buy. Cannabis subscription boxes are poised to grow along with the overall industry.
Integrating technology like mobile apps, payment platforms, and logistics software is streamlining the delivery process. Everything from browsing products to completing a purchase to tracking your delivery can now be done on your phone. Back-end technology is also enabling more efficient routing, inventory management, and delivery. continued innovation in cannabis e-commerce and logistics will make delivery even more seamless.
Is it better?
New technology, partnerships, and business models mean that no matter where you are, your favorite products can be delivered swiftly and discreetly. The expansion of delivery services is crucial for an industry aiming to provide safe, legal access to all. While regulations continue to change, one thing is clear: cannabis delivery is here to stay. Keep an eye out for the latest innovations in your area and the brands making moves. The future is unwritten but with so much momentum, the cannabis industry's next chapter promises to be a page-turner. Stay tuned!