Vape Pen Near Me: All You Need To Know
Smokeland has a wide range of options with different flavors and experiences.
Harry B. Nuggs
11/8/2023
3 min read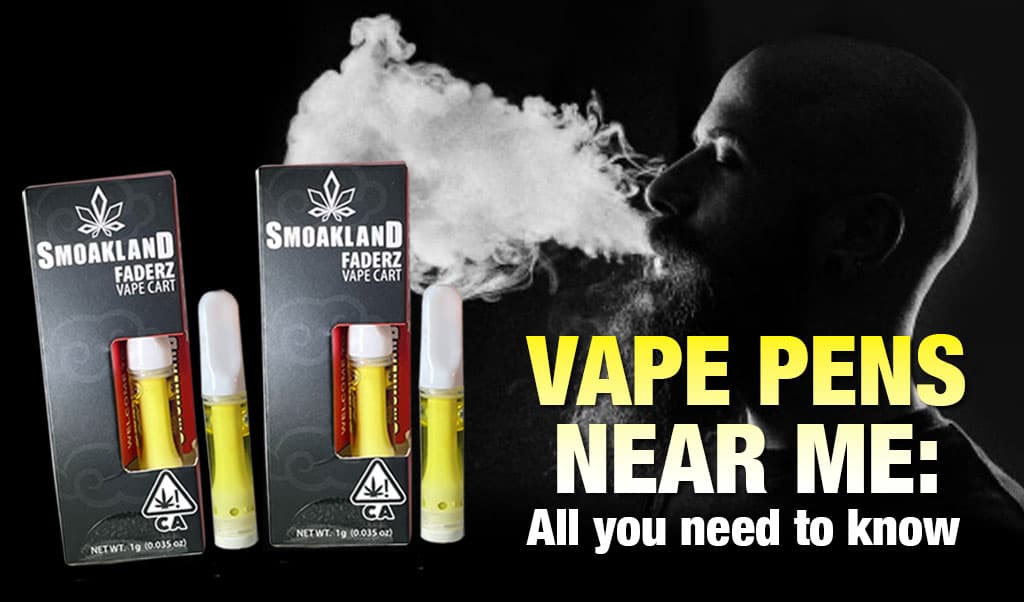 Vape Pen Near Me: All You Need To Know
Vape pens are consistent in terms of having a higher effect than other cannabis consumption methods, like consuming edibles or smoking flowers. Cannabis that exists in vape pens has a higher concentration which makes it have a higher dosage when being consumed. Finding the right vape pen might be challenging and we can't blame you. Gladly, Smokeland offers a variety of vape pens that might be precisely what you need. Visit Smokeland's online menu and start adding to your cart now!
What is Vape Pen?
For some reason, there's an absolute boom of vape pens nowadays. For those who still don't know what it is, keep on scrolling. Vape pens are electronic devices that are incredibly handy and portable. It can be consumed through an inhaling mechanism.  There's a phenomenon that arises in the existence of vape pens. If you want to have a cannabis-infused product that is small enough to fit in your pocket, vape pens are the perfect product for you! Other than its portability, it's also odorless, easy to clean, and requires less maintenance. 

To make your life easier, we researched the best weed vape pens on the market. We gathered a list of products that might be your preference. Below are the best vape pens near you:
Blueberry Gelato - Also called Berry Gelato, is a type of vape pen under Indica-dominant hybrid marijuana. Blueberry Gelato strain is made by crossing thin mint girl scout cookies with blueberry. It contains 21% THC which makes it an ideal strain for experienced cannabis consumers. This will also help in easing symptoms associated. 

Chemdawg - This hybrid marijuana strain already existed in 1991! It contains marijuana strains grown and spread by the breeder Chemdog. It is believed that Chemdog is highly connected to Northern California bag seed. The name came from two words for the same bud "Chem" and "Dog bud". It is a staple strain in cannabis and can be a powerhouse of strains like Sour Diesel and OG Kush.

Blue Dream - Blue Dream can consist of about 20% THC but has a low percentage of CBD. It is a Sativa dominant marijuana strain made by a combination of Blueberry with Haze. You can never go wrong with Blue Dream, it is one of the fan favorites. Both newbies and veterans absolutely love this product. 

Amnesia Haze - You might want to try some earthy flavors from lemons and citrus, gladly, Amnesia Haze is ready to satisfy your needs and experience. This product's origin can be traced back to the South Asian and Jamaican landrace strains. It is also the Cannabis Cup Winner from 2004 and 2012.

Faderz Chemdawg - This other type of Chemdawg has a perfect balance of hybrid cannabis strains that became extremely popular in the past few years because of its effect and unique pungent smell. 

Slurricane - Some days might be really tiring for you, and you might want a companion while relaxing in your free time. Yes, Slurricane is your perfect companion to unwind and relax. This product is a blend of Do-Si-Dos and Purple Punch, that is known for its slow punching impact. The flavors are described as fresh, with a flavor of grapes and sweet berries. 

Guava Kush - This product can give you a balanced yet flavorful experience. It has a combination of sweet and tart notes with fresh tropical fruit. It will make the consumers feel relaxed and uplifting at the same time. It's a versatile option that will help you soothe your body and ease your mind.
Where to Find Vape Pens
One key factor to consider before buying a vape pen is the brand's trustworthiness. Smokeland can guarantee transparency through customers review. If you are not sure what type of vape pen to buy, their line is always open for queries. Simply scroll through their website and at the end, you'll find the live chat button. Customer service is top-notch because of their friendly approach.  Furthermore, Smokeland has different dispensaries and offers delivery services across California. With just one swipe, you can receive your products on your doorstep. 
Looking for a top-graded vape-pen product? Smokeland has a wide range of options with different flavors and experiences. Now that you know all the ins and outs about weed pens and where to buy one, it's time to put one to the test! Hop on over to Smokeland!