Weed Tips: How to Store Your Concentrates & Extracts
Knowing the proper ways to store your concentrates must always be considered.
Harry B. Nuggs
11/3/2023
5 min read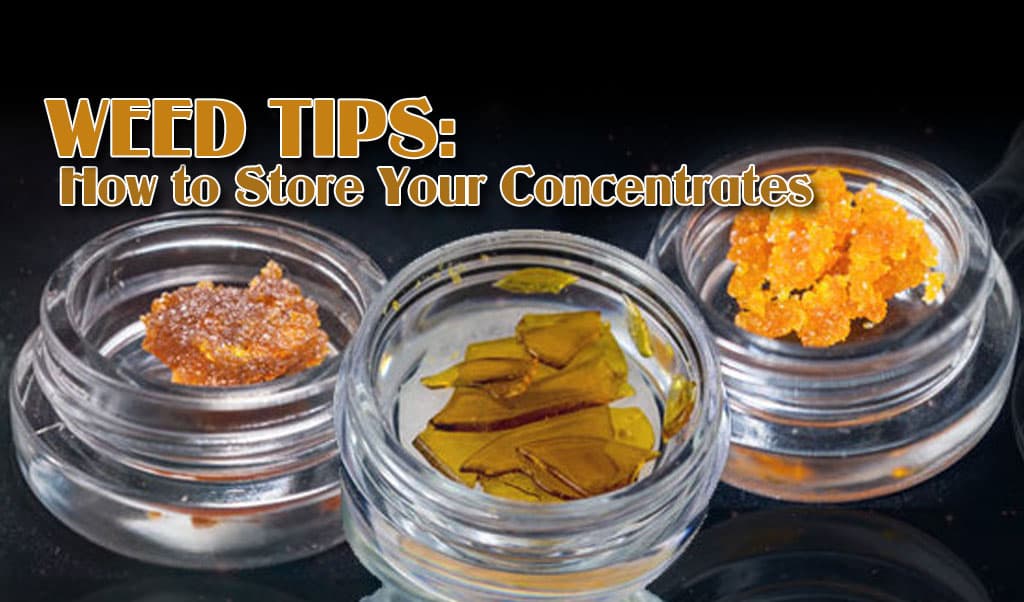 Weed Tips: How to Store Your Concentrates & Extracts
Got your concentrate products at hand? Now it's time to preserve its quality. Whether you are a newbie, seasonal, or veteran user, knowing the proper ways to store your concentrates and extracts must always be considered. Indeed, it is one of the most vital ways to keep the product as potent as possible. Hash, shatter, wax, and other concentrates will have its components deteriorate if the guidelines are not followed. 

Just like how THC breakdowns when exposed to too much sunlight, concentrates and extracts will react the same. To give you further details on the proper storing of concentrates and extracts, we'll go over all the information you need. Keep focused and scroll up! 
Factors Affecting Concentrate Quality
Storing your cannabis-infused products is a lot easier than you think. There are only a few factors to consider, make sure to strictly follow them to avoid conflicts and maintain your product fresh and new.
Classification of Container
You might want to keep your product for a short period of time or longer. The best containers for storage are glass and silicone jars. Glass is known for its durability and has an airtight lid keeping the product fresh for a long time. Silicone has the best material because the product won't stick to it. These jars are perfect for a couple of months. 
Environment 
In this matter, the main concern is the humidity. When exposed, it may result in molds or mildew. That's why you must tightly seal the container and open it when needed only. Through this, you can avoid the risk of contamination and other illnesses. 
Temperature
Now this is one of the major factors that can deteriorate the potency of your concentrates and extracts. The light and heat are the villains in prolonging the life of these products. To keep it alive, keep it at room temperature or below. If you live with high heat and humidity, it's probably best to store your concentrates in the refrigerator.
Best Practices for Storing Concentrates
You are already aware of the cons of improper storage of your concentrates and extracts, let's now see the best practices to keep the potency and freshness of your product. 
Silicone Jar
This type of container or storage is known for its versatility. It is perfect for your product because of its non-stick features, which make it easy to get any amount of extracts or concentrate you might need at the moment. In order to avoid any unsanitary practices, make sure that it is built of medical grade silicone. 
Parchment Paper
Next on the list is parchment paper. This one is only ideal for short-term storage for products that have mild extract consistencies like shatter. Check properly to cut enough concentration you need and double-check that it's folded up. 
Jars
There are two types of jars that are safe to use when storing concentrates and extracts. First is the glass containers, it is ideal for oleoresins which can be consumed in one scoop. It may be filled with budder, crumble, THCa crystalline, and other products. In order to use it for long-term storage, simply vacuum seal it and store it in a cool and dark area. 
On the other hand, plastic jars are used for short-term storage only. It is not recommended for concentrates specially shatters because it will stick roughly on the plastic and will be hard to get it all. 
Storing different Types of Concentrates
Shatter
Shatter has a hard texture and the best way to store it is through an airtight container, away from any form of light or UV rays. 
Live Resin
Ideally, it would be nice if stored in a refrigerator while avoiding moisture and extreme humidity.  This product contains extremely high terpene which makes it have a subtle flavor and aroma. 
Wax
This product can lose its potency and flavor rapidly. With this, it's vital to store it in an airtight container with no exposure to light.
Cannabis Oil
There are degrading elements that will reduce its potency as well as desired effects. Because of that, the best way to store it is by using tincture bottles. It is best when it's airtight and placed in a cool and dark environment. 
Crumble
From the name itself and likely to be resembled with baked cookie dough, airtight glass containers are also the perfect one for this product.
Long-Term Storage
One of the recommendations to keep your concentrates and extracts is through freezing. You might be in a place where the temperature is hot and there's too much humidity, which will negatively affect your product. In order to avoid the worst, keep your products in vacuum-sealed bags and airtight containers. Be mindful of the condensation that might happen because it will affect the flavor, aroma, and potency significantly. 
Avoiding Contamination
Even though there is a thawing process, you should not still store your products in the freezer for a long time.  Each time you take out products from your freezer, the potency, flavor, and aroma will have decreasing quality. Take note that when thawing out frozen product, make sure it completely dries to avoid molds or mildew along with other bacteria. 
Dos and Don'ts of Concentrate Storage
Here are the guidelines you must strictly follow when storing concentrates and extracts:
Do's
Do - place your cannabis product in a cool, dark, and dry place.
Do - use a proper container even if it's for the short term or longer.
Do - store your product in a refrigerator for a longer life span.
Do - dry your product after thawing before putting it back in the refrigerator in order to avoid molds and mildew.
Don'ts
Don't - keep your product in a freezer for more than two months.
Don't - store your product in direct light
Don't - use plastic jars because they will stick to the plastic materials.
Don't - place your product in a hot or humid place because it will increase the chance to have molds or mildews. 
Final Verdict
There are plenty of factors when it comes to choosing the right way to store your desired products. Those cannabis products need to be treasured carefully. So make sure you review all the guidelines above and apply them once you get your first product. 

If you want storage for the long term, the most popular are glass jars and silicone jars. There are also options for short-term storage, make sure to take extra precautions to keep mold away. There you have it, if you're looking for perfect concentrates and extracts, Smokeland is one of the most trusted brands in the market. Click here to be directed on their online menu.