Weed Tips: How to Store Your Vape Cartridges & Disposables
Why Proper Storage Matters
Crystal E. Terps
7/12/2023
3 min read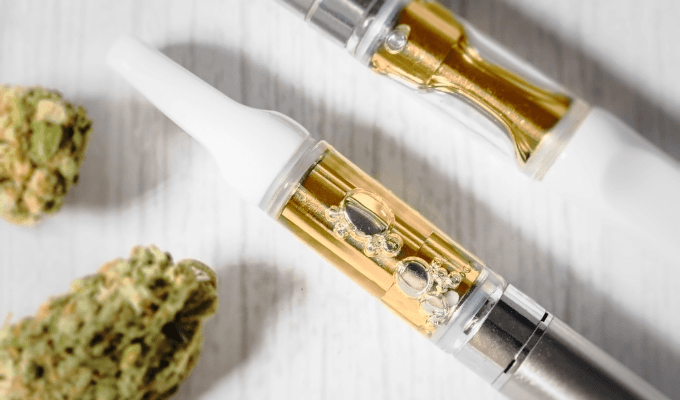 Do you love vape carts? If your answer is yes, then you need awareness of the importance of properly storing vape carts and disposables. Before, conventional smoking is a way to ingest cannabis. But now, due to modernization and technology, conventional smoking is no longer a trend. The phenomenal alternative is what we called vape carts. Instead of hassling to light your cigarette, vape carts are just one click away. Having delicate packaging and ingredient makes it for vape carts to be extra careful when it comes to storing. It needs to be protected from temperature, damage, and unexpected scenarios. 
If you know about cannabis-infused products, then you might be aware of how quickly they might deteriorate. How about storing vape cartridges? This blog is all about storing vape carts and disposables and why storing them properly for vape carts matters. 
Why Proper Storage Matters
Extra care is the main thing that correlates with storing vape carts and disposables. Because of its fragility and prone to damage, storing it in the right place must be given priority. It can be broken easily especially when handled incorrectly. Moreover, temperature and location will significantly cause the vape carts to affect their potency and quality. So, what's the perfect remedy? Using boxes aside from storing them in a dark place and away from the sun is one of the factors that need to be considered. 
Storing vape carts also comes with risks. As a consumer, you must also prioritize the safety of the household. Aside from purchasing from trusted brands, make sure that you store your vape carts in a place that cannot be reached by children. Like any other cannabis-infused product, it's highly recommended that anyone under the age of 21 should avoid using vapes. 
Storing Vape Cartridges
Let's get specific. For sure now, you want to use your vape carts for a long period. The relationship between you and your vape carts is inseparable. Just like how you handle yourself with care, apply the same in your vape carts. To prolong its life make sure your vape cart is away from heat, air, and light. 
Best practices for storing vape cartridges
Heat correlates with chemical interactions. It affects the liquid present in vape carts, the hotter the molecules are, the more energetic its components will become. There shouldn't be an issue in the first place. However, there are specific compounds present in vape carts that are accountable for the flavor. When heat is higher or lower, it will affect the taste of the juice. The ideal temperature to store your vape carts is room temperature or 20-22 degrees Celsius. 

Oxygen and UV light has harmful effects on chemicals present in your vape carts. It is recommended to place your vape carts away from the light to avoid quality breakdowns. The reason is that the chemicals will react to oxygen which results in the loss or gain of two hydrogen molecules and one oxygen atom. If the reaction and exposure to light and air continue, the quality of the product will be less. However, if you are careful and follow this guide, your vape carts are safe! 
Do's and don'ts for preserving cartridge quality
Do's
To turn on your vape pen, press the button 5 times and wait for it to illuminate.

It's ideal to use a low-heat setting

For the best experience, hit the button, wait for a second, begin your inhale, and release the button a second before your hit ends. 

Clean your vape carts regularly
Don'ts
Don't press the button multiple times during a heat. 

Avoid using high heat settings.

Don't take more extensive hits, it's not a race.

Remove clogs in your vaping device

Do not expose your vape device to light or heat
Storing Disposables
One thing about disposable vape is that it has limited puffs. This will cause your vape device to eventually run out of e-liquid or battery. Now, what do you need to do? Simply limit your puff intake per day. Just like other vape carts, the life of a disposable vape is also affected by similar factors. Don't leave your disposables in low-temperature areas, it will require more battery and time to work again. This will result in losing your disposable vape earlier and surely you don't want that to happen. Always remember to keep it a room temperature so you don't need to warm it up. Practice this etiquette and surely you'll have a better relationship with your vape device. 
Long-Term Storage
Maintaining your vape devices is not easy and it might be tiring at the same time. Think of your vape device as your pet, it needs to be clean and taken care of. If you want to maintain the life of your disposable vape, then you should take care of it. Ingest fewer puffs, avoid air, store it a room temperature, and keep it away from the sun. If ever you ran out of puffs, Smokeland offers a wide variety of vape carts and disposable choices. Visit the website for a relaxing experience.
Traveling with Vape Cartridges and Disposables
Now, you want to bring your device to another part of the world. Don't be impulsive! Make sure you are aware of the laws of the certain country you'll be traveling or else you'll experience the worst. Make sure that your vape carts and disposables are under 100ml you can take them on your travel or can pack them in a check-in suitcase. On the other hand, be mindful because transportation cannot guarantee any federally controlled substances like cannabis. This is highly prohibited on almost all U.S. flights. 
Conclusion
Vaping carts and disposable is not simply a device. To prolong its life make sure to avoid lighting, and be mindful of the temperature, as well as the air. There are plenty of factors to consider to save your vape devices. Whether it is disposable or not, one should still be accountable and know how to properly store it. 
We heard your feedback! Smokeland is now offering deliveries to Oakland, Alameda, Piedmont, San Leadro, San Lorenzo, Castro Valley, Emeryville, Berkeley, Richmond, Albany, El Cerrito, San Pablo, El Sobrante, Pinole, Hercules, Concord, Martinez, Clayton, Pleasant Hill, Walnut Creek, Layfayette, Orinda, Moraga, Pacheco, San Ramon, Pleasanton, Danville, Dublin, Livermore, Alamo, and more!
Looking for vape carts online menu? Look no further, Smokeland offers the best vape cart products.