Local Cannabis Cultivation Secrets: Behind the Scenes with Smokeland
Farm-to-Bowl Philosophy: Connecting to Consumers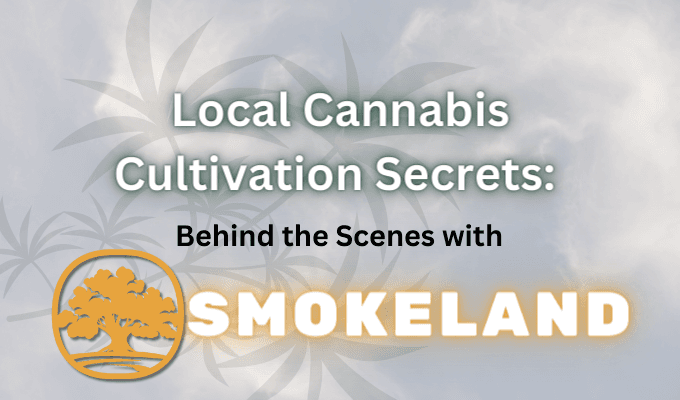 There's nothing better than indulging in the premium products from your locality. Being the cream of the crop, Smokeland maintains its name of having high-quality sun-grown and indoor flower, pre-rolls, concentrates, edibles, and vapes. All of this underlies the careful cultivation process that makes cannabis in Northern California a crowd favorite. Behind every rich cannabinoid profile and enticing aroma is a dedicated cultivation process. 
In this blog, we delve into the profound importance of farming cultivation in the world of cannabis in Northern California and why Smokeland has the best farm-to-bowl philosophy. 
Farm-to-Bowl Philosophy: Connecting to Consumers
There's nothing more touching than improving the quality of products for a better consumer experience. Having a fresh and chemical-free farm is what makes the process of cultivating a high-level product that everybody will love. 
One of the edges of Smokeland is its farm-to-bowl philosophy. This unique approach allows them to bridge the gap between cultivators and consumers, creating a direct connection that is often lost in larger-scale operations. By cultivating their products with care and attention, and then bringing them straight to the consumer, Smokeland ensures that each product tells a story – from the moment the seed is planted to the final inhale.
Affordable Excellence
You purchased your favorite product, it has a high quality, fresh, and what's more? It's BUDGET-FRIENDLY. Such a complete package for purchasing experience. Smokeland's dedication to providing premium cannabis products at affordable prices is a game-changer for both new and seasoned enthusiasts. In an era where quality often comes with a hefty price tag, Smokeland has disrupted the norm by making high-quality cannabis accessible to a wider range of consumers. This commitment to affordability without compromising quality is a testament to their genuine passion for the plant and the people who enjoy it.
Quality Control You Can Trust
When it comes to cannabis, quality control is paramount. Smokeland understands this better than anyone and has implemented rigorous quality control processes to maintain its reputation for excellence. Every step of their cultivation and production process is meticulously monitored, from selecting the finest strains to utilizing the most effective cultivation techniques. This commitment to quality shines through in every product they offer, giving consumers peace of mind and a consistent experience every time.
Each package from Smoakland carries a powerful emblem of their profound connection to their roots in Oakland. The iconic San Francisco-Oakland Bay Bridge, gracefully depicted on every package, serves as a testament to their origin story. This symbol goes beyond mere aesthetics; it encapsulates the brand's journey from the streets of Oakland to the forefront of the cannabis industry, representing a commitment to excellence and quality.
Customer Service Beyond Compare
Smokeland's dedication to its customers goes beyond just providing exceptional products. Their stellar customer service sets them apart as a company that truly values its clientele. Whether you're a curious novice or a seasoned connoisseur, Smokeland's knowledgeable and friendly staff are there to guide you through their product offerings, answer your questions, and help you find the perfect cannabis experience for your preferences.
If you have any queries regarding their products, visit Smokeland's website, scroll up, and at the bottom click live chat support. Ask all of your queries with their friendly and approachable customer service!
Elevating Your Experience with Smokeland
In a world where the cannabis market is flooded with options, Smokeland stands tall as a company of quality, affordability, and connection. Their "farm-to-bowl" philosophy ensures that each product is a labor of love, cultivated with care and delivered with pride. From their top-tier products to their exceptional customer service, Smokeland has earned its place as a leader in the California cannabis industry.
So, whether you're seeking a new adventure in cannabis exploration or simply want to enhance your well-loved routine, look no further than Smokeland. Experience the difference that their commitment to excellence and customer satisfaction can bring to your cannabis journey. Your next elevated experience is just a Smokeland product away.